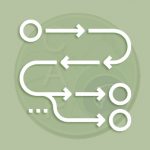 The Coordinated Assessments Partnership (CAP) is co-led by StreamNet and the Pacific Northwest Aquatic Monitoring Partnership (PNAMP). Each co-lead supports CAP by leveraging their expertise and resources to achieve a collaborative process that efficiently shares and provides access to standardized derived information, such as fish population high-level indicators (HLIs) and supporting metrics. The success of CAP relies strongly on participating federal, state, tribal, and other organizations.
StreamNet's data management and sharing expertise supports the technical aspects of CAP's implementation. StreamNet supports CAP through subcontracts for StreamNet-funded data stewards, improving data management and sharing capacity of data providers, and by supporting the Coordinated Assessments Exchange (CAX) data system, including its quality control and validation processes. The StreamNet Executive Committee (SN ExCom) provides policy guidance and confirms regional priorities for the work outlined in the Five-Year Plan for the Coordinated Assessments Partnership, which is reviewed annually. StreamNet Steering Committee members are represented on the CAP Core Team and provide guidance to their organizations' data stewards, who work to exchange data with the CAX data system. StreamNet staff serves as Chair on the CAP Data Exchange Standard Development Team (DDT), which collaboratively informs how HLI data will be shared with the CAX following data exchange standards.
PNAMP's expertise in facilitating collaborative processes among Pacific Northwest federal, tribal, and state aquatic monitoring organizations and its success in bringing participants together to tackle topics of interest support a wide range of CAP activities. PNAMP facilitates discussions and events needed to support implementation of CAP, including informing development and refinement of HLIs through its Fish Monitoring Work Group. PNAMP also maintains the historical records of CAP and coordinates regional communication via the CAP Outreach Forum's distribution list.
CAP's implementation relies on the support and expertise of staff from federal, tribal, and state fish and wildlife organizations, the Columbia River Inter-Tribal Fish Commission's Inter-tribal Monitoring Data project, and many other organizations. CAP's CAX data system also relies on the Columbia Basin Fish & Wildlife Library to provide access to documents and reports that contain contextual supporting information for data sets.
Below we describe the roles and relationships of groups engaged in the implementation of CAP.