Columbia Basin F&W Library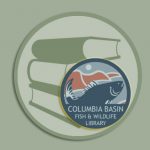 The Columbia Basin Fish & Wildlife Library provides access to current and historical information on the Columbia River Basin to inform scientific, policy, and cultural research. Columbia Basin Fish & Wildlife Library (formerly known as the StreamNet Library) is a full-service library and includes materials relating to the fish and wildlife resources of the Pacific Northwest, with special attention to anadromous fisheries in the Columbia River Basin. The Library places particular emphasis on less commonly available "gray" literature. Library services include reference, referral, database searching, inter-library lending, and document delivery. The Columbia Basin Fish & Wildlife Library is a program of the Columbia River Inter-Tribal Fish Commission.
You can contact the Library to submit your documents by emailing the Library staff at fishlib@critfc.org or calling 503-736-3581. The Library is also open to the public and is located on the fifth floor of the Lloyd 700 Building, 700 NE Multnomah Street, Suite 515, Portland, OR 97232.
You can search the library catalog online or browse our collection in person!
If you are unable to find a document in the catalog, please call or email the Library and we will make every effort to get you the information required.
The Library and StreamNet
The StreamNet Program relies on the Library to provide access to documents related to the data submitted to the StreamNet data systems. A primary objective of the Library is preserving and providing access to StreamNet source and data reference documents, as well as those related to data for the Coordinated Assessments Partnership.
Source documents for all data in StreamNet data systems are available through the Library. If you submit your document to StreamNet, we will forward it to the Library and obtain a Library URL to link to your data set. Alternatively, you can submit your document to the Library and use the URL provided when you submit your data set to StreamNet.
StreamNet and Library staff work together to ensure that all StreamNet references have complete and accessible digital records.