Fish Monitoring Data Query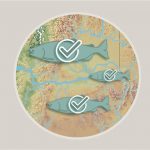 Fish monitoring data, formerly called the StreamNet "trends," consist of numerous data categories for resident and anadromous fishes, including fish abundance estimates, redd counts, dam counts, and other abundance indices. These data categories have data sets spanning many years.
These data are collected, standardized, and shared by cooperating states, tribes, and federal agencies in the Pacific Northwest. Data sets are generally updated annually.
Click Image to Explore Data