HSRG Reports and Documents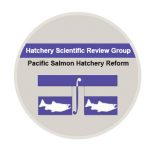 Reviews
The HSRG has completed comprehensive reviews of hatchery programs in the Puget Sound, Coastal Washington, Columbia River Basin, and Elwha River. In addition, the HSRG has completed recent reviews of several Environmental Impact Statements and recovery plans.
All final reports, reviews, presentations, and other final documents produced by the HSRG are available below. Also available are supporting articles, presentations, and other documents that the HSRG consulted. All of these files are also accessible from the Columbia Basin Fish & Wildlife Library.
Gorton Report
In 1999, the Gorton Science Advisory Team prepared a report for then-Sen. Slade Gorton, of Washington, that examined the potential for using hatcheries to support fisheries while simultaneously aiding recovery of natural stocks. The process described in the report requires that goals be established for each hatchery, that these programs be scientifically founded and evaluated, that independent scientists interact with agency scientists to provide direction and operational guidelines, and that the system as a whole be audited for effectiveness.
The team's 1999 report is available on the HSRG Document Table below and by clicking the following hyperlink:
The Reform of Salmon and Steelhead Hatcheries in Puget Sound and Coastal Washington to Recover Natural Stocks while Providing Fisheries (view)
HSRG Document Table
Note that for documents under copyright (not open access) the link will open the DOI web-address.