Data Policy and Agreements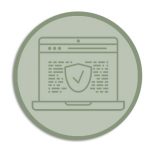 The standardized data maintained by StreamNet and accessible through its CAP Fish HLI and Fish Monitoring Data queries are made accessible following an agreed upon data use policy, data-sharing agreement (DSA), and data use agreement. These are provided below and are also included when data is downloaded from the CAP Fish HLI and Fish Monitoring Data queries.
It is also expected that any other data or information obtained from the StreamNet website will be properly cited (see Citing StreamNet).
CAP Fish HLI (CAX) Data Policy, Data Use Agreement, and Data-Sharing Agreements  (updated 2021)
The Coordinated Assessments Exchange Network (CAX) will reside at StreamNet and will serve as a secure, shared repository for both indicator and metric level data. The StreamNet Steering and Executive committees have reviewed this DSA and will remain avenues to discuss any changes or concerns that participants may have about access to these data.
Metadata, including citations to individual agencies or tribes, biologists, databases, and reports, will be linked to the indicator and metric level data on StreamNet through links that auto-generate a list of citations for each metric in the data-exchange standard (DES) upon downloading. In addition, a listing of all agencies and tribes that provide data will be prominently displayed when data are downloaded. 
This DSA. DUA and policy are intended for use with CAX data sets that have passed QA and are ready for dissemination online.
Specific webpage(s) on StreamNet will be maintained for the CAP Fish HLI (CAX) data and will clearly reference all of the organizations and data providers. 
As users access these pages, they will be presented with a Data Use Agreement (DUA) requiring agreement before access to the site is granted. Upon accepting this DUA, data users will be allowed free access to the metric and indicator level data in the CAX database. The expectation is that these data have been derived, quality checked, shared between multiple entities, and generally collected through the expenditure of public funds.
Metadata, including protocols used to calculate the indicators for each population, will be available on the StreamNet website.
Fish Monitoring Data (Trends) Data Use Agreement (updated November 1, 2020)
The End-User License Agreement applied to the CAP Fish HLI (CAX) data was adapted for the Fish Monitoring Data (trends) data.
IMPORTANT! BE SURE TO CAREFULLY READ AND UNDERSTAND THE TERMS AND CONDITIONS SET FORTH IN THIS DATA USE AGREEMENT (DUA). YOU ARE NOT AUTHORIZED TO ACCESS OR USE THE DATA IN THIS DATABASE UNLESS AND UNTIL YOU ACCEPT THE TERMS OF THIS DUA.
In order to access, share, or use these datasets you agree that:
1. You acknowledge that data in the StreamNet database are dynamic and may be updated at any time.
2. Data contributors StreamNet PSMFC and Bonneville Power Administration accept no responsibility or liability for the accuracy of these data or for the uses and/or interpretations to which these data may be put.
3. Data contributors sometimes provide links to metadata and associated publications that may discuss the limitations and proper use of the data. It is your responsibility to understand and comply with these restrictions if you use the data.
4. We may take measures to restrict access to these data if violations occur to ensure violations are not repeated.
5. You will be careful to properly credit individuals and agencies when using data and will follow reputable standards for the use and interpretation of scientific information.
6. You assume responsibility to determine the usability of the data for your purposes.
7. Before publication you will contact the appropriate data contributors and maintain a record of contact prior to significant use of data in any publication in order to:
a. obtain verification, data use limitations, and context for data through metadata.
b. secure appropriate permissions prior to submission for publication by sending requests to data owners and sending a copy to the data publishers or peer review team.
c. arrange appropriate acknowledgements, citations, and/or authorships.
8. Failure to comply with the requirements may result in denial of access to data files in future requests. (Data owners have 90 days to respond to data publication reviews). You will be notified of any accusations of failure to comply and have opportunities to defend your action to ensure continued access.
9. StreamNet will endeavor to design and maintain access to data for only those who agree to comply with this EULA. However PSMFC (StreamNet) does not accept any liability for this Data-Sharing Agreement or for any compliance failure or any responsibility for enforcement of this agreement or for the use or misuse of any data accessed from this database.
The data compiler will associate the code for the agency that put the data into the StreamNet standards and sent them to StreamNet and is responsible for updates (see StreamNet Fish Monitoring Data Trends DES document for codes). When the person sending data to StreamNet is employed by one agency but functions within a different agency (common for PSMFC staff), the CompilerID reflects the agency the person functions within.
As StreamNet data are updated, PSMFC and CRITFC will maintain and update links to the specific publications and citations underlying this related data in the Columbia Basin Fish & Wildlife Library.